Why Marketing is Important to Your Small Business
Everyone knows they need marketing, but many small business owners have different ideas on what that is, or how much it should cost, or how to gauge if it's working or not. How great would it be to have a clear understanding of what marketing can do for your small business, and how to track and gauge it's success? Well, that's easy…just keep reading!

WHAT IS MARKETING FOR A SMALL BUSINESS?
Marketing is essentially anything you do to promote your business, or make money. Whether it's just gathering awareness and interest via PR and Social Media, Getting more salespeople out there to acquire more clients directly, or using any of the standard online strategies such as search engine optimization (SEO), Pay-Per-Click (PPC) Advertising, or growing and cultivating an E-Mail List, all of these are different forms of marketing. So, basically, marketing is anything you're doing to get more awareness and attention for your business, get more clients and customers, and ultimately make more money.
HOW MUCH DOES MARKETING COST?
Knowing that, we have to establish what should be a good marketing budget. On average, you should expect to allocate anywhere from 1-5% of your total annual revenue to marketing efforts. When you're first starting out, you'll have to allocate obviously a lot more. If you're largely successful, however, you can stick to this range and even the lower end of this range.
HOW DO YOU KNOW YOUR MARKETING IS WORKING?
How do you know sales aren't just going up temporarily? You have to be able to track your efforts. Every single thing you do should have a way of tracking results, or don't do it these days. For example, it's better to do online advertising with Pay-Per-Click Ads than it is to do a magazine advertisement, because each view, click, and subsequent action can be tracked and analyzed.
Likewise, building an e-mail list through an e-mail marketing service like MailChimp, Constant Contact, or AWeber enables you to see who opened your e-mails, who clicked on the links, and which of your customers consume more of your information than others.
Putting Google Analytics on every page of your website will help you track your visitors, where they come from, how long they stay, what their actions are, and what page they leave from…just to name the basics of Google Analytics. Make sure you put the Google Analytics code on every single page of your website, including all pages throughout the entire shopping cart and check-out process if you sell products on your website, so you can see if there are any "drop off" points which need correcting.
---
Knowing what marketing is, and understanding how to track success, will help you fix what's wrong in your marketing strategy and efforts, and help you become more efficient in your marketing expenditures. After all isn't a dollar saved a dollar earned? Contact Us and we can help you create a specific strategy for your business, and get you going in the right direction of making more money and growing your small business.
Read More: Check Out Our 5 Most Recent Posts:
Like This Article? Receive the Next One Automatically!

Get Our FREE Marketing E-Book
"55 Marketing Tips for Small Businesses"
When You Subscribe!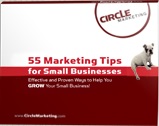 If you found this article helpful and enjoyable,
sign-up for our email list below,
and we'll send new articles directly to your inbox!
NOTE: We don't spam and we'll NEVER give away your email address
to ANYONE. You won't like us if we did that, and we're here to help you!