What is Keyword Density and Does It Effect SEO Rankings?
Keyword Density is a ratio of desired search terms displayed in the content of a page to the overall content of that page. For example, let's say you're an auto mechanic in Santa Monica, CA who specializes in fixing domestic vehicles. One of your Keywords might be "Domestic Auto Mechanic Santa Monica." Another might be "Auto Repair Santa Monica." Still another might be "Car Repair Santa Monica." Of course, your specific keywords should be researched and determined for maximum impact.
Your Keyword Density Ratio would be the ratio of keywords-to-"normal" words in any particular page or post on your website. The lower the density, the less search engines will feel you adequately address the desired topic and search terms. The higher the density, and you could be down-graded or penalize for what is called "keyword stuffing."
The bad effects of very low Keyword Density, or pretty obvious. If you don't talk enough about the search terms your potential customers are searching for, then you won't be helped in your SEO via your on-page content (which is paramount).
"Keyword Stuffing" is just as bad, because the search engines will know that you're trying to fool them. It's basically search engine spam. You might remember the older sites from the 90's which featured, say, a white background, and after you reached the bottom of the page, you could scroll and scroll, but couldn't see anything, then noticed one day that there were a whole bunch of seemingly random words at the bottom of the page in white type over the white background. This used to be a trick (bad SEO tricks are called "Black Hat Tactics) that website developers used to try to trick the less-advanced search engine algorithms of the day.
These days, search engine algorithms are highly advanced, and will easily recognize more Black Hat tactics and penalize a site's ranking which uses these "tricks."
A good rule of thumb for Keywords is around 3-5%. This is arguable, as some suggest keeping it between 1-3% of content, and other suggest going as high as 8%. So, we'll take the middle road and recommend 3-5% keyword density. What does that look like for our auto mechanic friend? Take a look:
"ABC auto repair in Santa Monica is a family owned and operated domestic auto repair shop which specializes in fixing and maintaining all your domestic vehicle needs. No matter what issues or problems you're having with your car, whether it's low idling, or your check engine light suddenly comes on, or even if you just need a quick oil change, just come on in to our Santa Monica shop on Washington Blvd, and we'll treat you like family! Our domestic auto mechanics are here six days a week to take care of all your repair needs. See you soon!"
That paragraph has a real keyword density of about 3%. You might read that and think "there's 101 words, but 16 keywords, so isn't it around 16%?" Good thinking, but when you group search terms together, they count as one instance, not individual words. Example, "Auto Repair" is one search term, so that will factor in the keyword density ratio. Likewise, so will "domestic auto repair" and "santa monica" which is individual search terms, at least in this case, and not three different keywords.
Now, all that being said, does it really truly matter? Only the geniuses who programmed the algorithm of the best search engines like Google will know for sure (even though they'll tell you even they can't predict 100% search result accuracy), but the results have suggested that when you keep the suggested keyword density for desired search phrases and keywords at 3-5%, your SEO will be helped out.
One last thing which is important to note. Yes, we're mathematically trying to achieve an optimal keyword density for top rankings, but notice that the copy still read very well for humans. This is extremely important, because even if you rank number one on all the search engines, but have horrible content/copy which isn't written for a human to read and be affected by, then you still aren't going to see much improvement on the bottom line.
To summarize, always research your optimal keywords, and make sure above all else your content is written for humans first and foremost, then tweak the sentences and paragraphs slightly to achieve the optimal keyword density of 3-5%. Then, hope that you have many reputable backlinks pointing to your site for even better results.
Happy content writing! Please enter your thoughts in the comments below, or check out one of our other articles in the list immediately following this article, and as always feel free to contact us or download our free marketing ebook to help you out even more.
Read More: Check Out Our 5 Most Recent Posts:
Like This Article? Receive the Next One Automatically!

Get Our FREE Marketing E-Book
"55 Marketing Tips for Small Businesses"
When You Subscribe!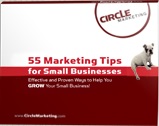 If you found this article helpful and enjoyable,
sign-up for our email list below,
and we'll send new articles directly to your inbox!
NOTE: We don't spam and we'll NEVER give away your email address
to ANYONE. You won't like us if we did that, and we're here to help you!