Split Testing Pay Per Click (PPC) Campaigns
When you launch a Pay-Per-Click (PPC) Ad Campaign, you should do split testing. What split-testing means is creating more than one version of your ads, which run concurrently. One ad will probably perform better than the others, and you can adjust a campaign accordingly, as you analyze the effectiveness of each ad version. Differences in the split test could be different messaging, different headers, different images, depending on your strategy and what you're offering.
Say you're selling an eBook about Investing. One ad might read something like "Learn the Secrets of Investing" whereas another ad might read, "Retire Rich? We'll Show You How!" You might want to tweak your messaging and reach of the ad to hit different demographics, highlight different products, or even two versions of the same exact thing. See which one performs better.
If you have three versions of your ad out for a couple days, and one converts into sales at a rate of 10%, but the other two are converting at 2% and .2%, then you know what to drop immediately before you waste money on an ineffective ad. It'll probably surprise you which ads perform better. Usually it's the ones you don't expect, so try all a wide variety of approaches and see which ones best resonate with your customers.
---
Action Item: What kind of audience will benefit from what you are selling? What copy lines can you write which will appeal directly to their need? In what ways could you split test a few ads to track the results?
Read More: Check Out Our 5 Most Recent Posts:
Like This Article? Receive the Next One Automatically!

Get Our FREE Marketing E-Book
"55 Marketing Tips for Small Businesses"
When You Subscribe!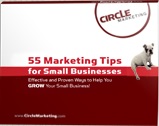 If you found this article helpful and enjoyable,
sign-up for our email list below,
and we'll send new articles directly to your inbox!
NOTE: We don't spam and we'll NEVER give away your email address
to ANYONE. You won't like us if we did that, and we're here to help you!