Social Media Marketing Strategy for Small Businesses

You own a small business, and know that over one billion people are using social media. How can you run your business, and find time to use social media to connect with potential and current customers, all while still trying to find the time to have a semblance of a personal life? We can help you with your social media marketing strategy by breaking down some best practices for you here.
NOT ALL SOCIAL NETWORKS ARE CREATED EQUAL
Facebook, Pinterest, Twitter, Google Plus, and LinkedIn are all social networks, but that's pretty much where the similarity ends. Most small businesses don't have the time to invest in varying their messages to effectively communicate with each very different social network audience. So, some small business owners resort to using programs which duplicate the same content across all the networks to save time and effort, but that is not an effective strategy. It should be a relief for you to know you don't have to use all of the networks. You don't need to utilize all the networks, especially as you're getting started.
Now a quick disclaimer, the following suggestions may or may not be right for your exact business. These are just general rules of thumb for the average businesses. If you're a B2C brick-and-mortar small business, then you probably wouldn't need to worry about LinkedIn, Pinterest, or maybe even Twitter depending on how you use it. On the contrary, if you're a B2B business, Pinterest or Facebook might not be a benefit. If you are an online-only business, and sell product directly from your website only, then Pinterest would be a great place for you, but Twitter maybe not work for you that well anymore. Finally, if you're a comedian, then you will definitely want to focus on Twitter and YouTube, for example, because those networks will suit your brand and style best.
WHAT SOCIAL MEDIA IS…AND ISN'T
Social Media is a place to make connections with potential customers, and build relationships with them. Develop a strong connection and give-and-take. Listen to what your customers want, and give them what they're asking for. Communicate with them as they want to be communicated with, and live in their world with them.
Social Media is not your billion person automatic storefront where you can expect to just post a few cat pictures then a sales link and expect the masses to come flocking to your website. The realistic expectation is that it will take some time and constant effort to build a strong following, then longer to build a strong relationship, then just a little bit longer to expect the steady stream of sales to begin.
MOST EFFECTIVE STRATEGIES
All that being said, there are ways to reap the benefits of social media before the long efforts come to fruition for your small business. The most effective strategies for more immediate ROI are below:
FACEBOOK: Use highly targeted Facebook Ads to grow your following, and to direct interested customers to pages which can offer your product or service for sale (aka "landing pages"). You can target by age, gender, interests, or any other demographics which help you reach your exact audience. Don't worry about clicks. Worry about conversions (aka did people buy something). Getting a lot of traffic to click isn't as important as get interested people to click, because you're paying for each click. Make it count.
GOOGLE PLUS: Google Plus (as of right now) is great for SEO, and local businesses. Google says that links on their social network don't contribute to positive search engine ranking improvements, but the evidence we have seen suggests otherwise. Either way, it can't hurt, right?
PINTEREST: If you are selling direct from your website, make sure you "pin" each and every item for sale on your Pinterest account. In the description, put in the dollar sign, because products Pinned with dollar amounts get clicked at a much higher percentage than those without dollar amounts. Pinterest also puts a snipe graphic displaying the price. Pinterest is very e-commerce friendly.
TWITTER: Depending on your business, Twitter is wide open. There are a million and one ways to use the 140 characters-only micro-blogging network. Use relevant hashtags (#ThisIsAHashtag) to allow other Twitter users to find your Tweets and increase your followers. Twitter has a great deal of noise, so build decent connections by following those users who you can partner with and utilize each other's followers.
LINKEDIN: Make business partnerships and connections via LinkedIn. Also, if you're a B2B company, then LinkedIn is your best friend. Get a paid account where you can message and interact with anyone directly, even if you're not connected to the, and insist your salespeople do the same. For B2B, you need to constantly build new relationships, network, and get out there to build strong relationships and partnerships. Cold calling is working less and less, so jump on LinkedIn, take out some ads, and start making connections with the business owners and influencers who will end up being your best customers.
EMBRACE LOCAL (Bonus Tip): If you're a brick-and-mortar small business, then make sure you're signed up with Google Places (now called Google Local), Bing Local, FourSquare, and Yelp. Sign up with the largest location-based networks, and encourage your customers to "check in" when they're at your business. This is free advertising. Also, search engines are becoming more and more localized, so making sure you're signed up with all the location-based networks will help you get found easier even if your normal SEO efforts are taking a little bit to kick in.
Following these best practices will definitely get you headed in the right direction. Contact Us to help you create the most efficient and effective social media marketing campaign possible. We look forward to helping you grow your influence across social media!
Read More: Check Out Our 5 Most Recent Posts:
Like This Article? Receive the Next One Automatically!

Get Our FREE Marketing E-Book
"55 Marketing Tips for Small Businesses"
When You Subscribe!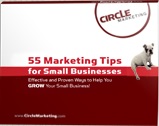 If you found this article helpful and enjoyable,
sign-up for our email list below,
and we'll send new articles directly to your inbox!
NOTE: We don't spam and we'll NEVER give away your email address
to ANYONE. You won't like us if we did that, and we're here to help you!