Why Facebook "Doesn't Work" for Your Small Business
Circle Marketing's Managing Director, Louis Tanguay, had the pleasure of writing a guest post on Susan Newman Design Inc's blog about Why Facebook "Doesn't Work" For Your Small Business. In this article, Louis explores Facebook's EdgeRank algorithm, and how most small businesses don't take full advantage of Facebook's tools and communication features. Also discussed are the best practices for Facebook Marketing as well as key strategies to avoid due to their lack of effectiveness.
If you're a small business owner, then this Facebook Marketing post is a must-read. It's so good, we wish he saved it for our own blog, but c'est la vie. You can read the full article right here, and please be sure to share it to spread the word around. Enjoy!
Read More: Check Out Our 5 Most Recent Posts:
Like This Article? Receive the Next One Automatically!

Get Our FREE Marketing E-Book
"55 Marketing Tips for Small Businesses"
When You Subscribe!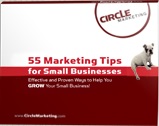 If you found this article helpful and enjoyable,
sign-up for our email list below,
and we'll send new articles directly to your inbox!
NOTE: We don't spam and we'll NEVER give away your email address
to ANYONE. You won't like us if we did that, and we're here to help you!