Facebook Timeline for Pages – Webinar Replay
Facebook Timeline for Pages is coming to Facebook on March 30, 2012. Circle Marketing's Louis Tanguay, teamed up with Broadcast Louder's Susan Newman to deliver the ultimate webinar on how to most effectively use Facebook's new Timeline for Pages with the sole focus on maximizing your business and/or brand's ROI and conversion cost efficiency.
You're going to see strategies, ideas, and techniques in this Webinar which others simply aren't doing yet. These fresh and new ideas, combined with the power of Facebook's new Timeline for Pages' abilities, makes this a must-see video for any and all small business owners and social media marketers of all sizes.
Circle Marketing can partner up with you and provide your business with the latest in Facebook marketing strategies, or if you have clients of your own we can do the work for you as a silent partner. This way, your clients can give you all the credit for their amazing success. Contact us now, and let's start improving that Facebook Marketing ROI!
View Facebook Timeline Marketing Video – Part 1:
View Facebook Timeline Marketing Video – Part 2:
Read More: Check Out Our 5 Most Recent Posts:
Like This Article? Receive the Next One Automatically!

Get Our FREE Marketing E-Book
"55 Marketing Tips for Small Businesses"
When You Subscribe!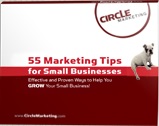 If you found this article helpful and enjoyable,
sign-up for our email list below,
and we'll send new articles directly to your inbox!
NOTE: We don't spam and we'll NEVER give away your email address
to ANYONE. You won't like us if we did that, and we're here to help you!