DERRICK Hayes Interview with Circle Marketing's Louis Tanguay
Encouragement Speaker Derrick Hayes interviewed Circle Marketing's own Managing Director, Louis Tanguay recently. Posted on DERRICK's website, the interview talks about how Circle Marketing was started, how to keep focused during challenging times in your business, and some keys to success.
If you're starting out with your business, or are hitting a few ruts, maybe head on over to DERRICK's website and check out the interview.
---
Derrick Hayes is the Author of 1 WORD Is All It Takes, Creator of Derricknyms, Developer of the app Motivation To Your Mobile, Nominator of Today's Honoree, and blogs as the Encouragement Speaker. Derrick Hayes, an alumnus of Tennessee State University is available for small and large meetings, church events, academic speaking engagements and workshops. For more information or to book Derrick Hayes for a meeting, conference or event  email him at info@EncouragementSpeaker.com or call (706) 615-1662.
Read More: Check Out Our 5 Most Recent Posts:
Like This Article? Receive the Next One Automatically!

Get Our FREE Marketing E-Book
"55 Marketing Tips for Small Businesses"
When You Subscribe!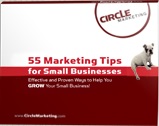 If you found this article helpful and enjoyable,
sign-up for our email list below,
and we'll send new articles directly to your inbox!
NOTE: We don't spam and we'll NEVER give away your email address
to ANYONE. You won't like us if we did that, and we're here to help you!