How to Create FUN and EFFECTIVE Web Promo Videos [VIDEO]
This blog is brought to us by the great marketing mind of Renae Christine, from RichMomBusiness.com, and many others. This "Mompreneur" has created dozens of successful businesses for herself and others. With kids in tow, Renae couldn't keep up with the demand for her help, and could no longer help everyone she loved –and she loves everyone. Thus, Renae started a Rich Mom YouTube Channel where she can help others start and expand their businesses en masse! Subscribe to her daily, funny 2-minute videos at RichMomBusiness.com. Thanks, Renae, for your "awesome sauce" and very helpful video!
TIPS TO MAKE AN AWESOME-SAUCE WEB PROMO VIDEO!
1. Make It Short
Unless you are doing an indepth tutorial, your promo video shouldn't pass the 3 minute mark.
2. DON'T Worry About Equipment
Some common questions I get is, "What kind of camera do you use? What kind of software do you use? What about Lighting…graphics…sound…???" All of that is great but some of the biggest YouTubers use their iphones, and imovie for editing!
Focus instead on content.
3. DON'T Listen to the "Experts" Telling You How to Make Your Videos Look "Professional"
Have you noticed that some of the best web promo videos are actually TRYING to look amateur? It's because people trust amateur reviews and videos MORE than commercial looking videos. It's true. People trust their friends. They trust people who are like them.
4. Keep It FUN!!!
If you're bored making your videos … come on … you're smart … you know the end of that sentence. Keep it FUN!
If you're looking for some more "Awesome Sauce" and fun marketing tips and would love to see more of Renae (which of course you DO!), just head on over to her Rich Mom YouTube Channel and her great Mompreneurial Website of awesomeness right now!
Read More: Check Out Our 5 Most Recent Posts:
Like This Article? Receive the Next One Automatically!

Get Our FREE Marketing E-Book
"55 Marketing Tips for Small Businesses"
When You Subscribe!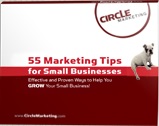 If you found this article helpful and enjoyable,
sign-up for our email list below,
and we'll send new articles directly to your inbox!
NOTE: We don't spam and we'll NEVER give away your email address
to ANYONE. You won't like us if we did that, and we're here to help you!