Branding and Marketing Differentiators with Lisa Steadman and WooHoo Radio [AUDIO]
Recently, Circle Marketing's founder and managing director, Louis Tanguay, was asked to appear on Lisa Steadman's WooHoo Radio Show! Lisa's a ball of energy and excitement, and she's always full of such useful information about personal and professional branding. Check out her WooHoo Radio show, and also her business website as well.
In their segment together (embedded below), Lisa and Louis discussed the Top 3 Essentials for websites to be most effective, and some ways every company can up-level their brand and kick their business into a higher gear.
---
Circle Marketing's Louis Tanguay on WooHoo Radio:
(you will need QuickTime activated, and give it a second or two to load…then…enjoy!)
---
Don't forget to check out Lisa's website and radio show! She's a blast to be around, and very fun as well as informative!
Read More: Check Out Our 5 Most Recent Posts:
Like This Article? Receive the Next One Automatically!

Get Our FREE Marketing E-Book
"55 Marketing Tips for Small Businesses"
When You Subscribe!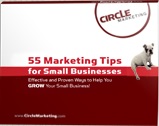 If you found this article helpful and enjoyable,
sign-up for our email list below,
and we'll send new articles directly to your inbox!
NOTE: We don't spam and we'll NEVER give away your email address
to ANYONE. You won't like us if we did that, and we're here to help you!