Small Business Marketing
The Circle of Marketing
Every Small Business, Brand and/or Product needs marketing. Marketing breaks down very simply to a combination of Awareness, Interest, Sales, and Referrals. This is called The Circle of Marketing™, and everything about "Marketing" will boil down to one of those key areas.
Awareness: People must know your product or service exists.
Interest: You have to make a compelling case as to why someone should be interested in buying your product, especially why someone should buy yours over a competitors.
Sales: Marketing isn't totally successful unless Sales increase.
Referrals: These can come in the form of peer-to-peer recommendations, online reviews, or reading quoted testimonials on your website.
This all ties in together, and it's the only way to hit all the points you need for long term and greater success. Our Process is efficient and effective. We analyze where your business is, and where you want to go. Our team of marketing experts will then help you along the path on your journey to success!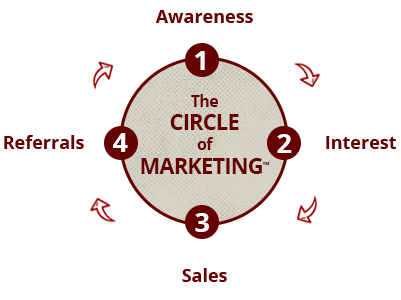 Small Business Marketing
Small Businesses rule the modern day! Never before in the history of business has the playing field been so leveled. However, most Small Business owners are so busy working in their businesses, that they rarely have the proper time allocated to work on their businesses, nor do they have the decades of marketing experience to know how to do it efficiently and effectively.
This is where Circle Marketing comes in. Since marketing is our specialty, we can help chart that course designed for the growth of your business through modern, efficient, and effective marketing strategies and techniques.
We specialize in Small Business Marketing, because we want to get Small Businesses working again, and moving forward. Why should all the "big boys" have all the fun and get all the customers? Here is a list of some of our Small Business Marketing Services:
Marketing Plans & Strategy
Branding: Logos, ID & Messaging
Email Marketing
Marketing Collateral: Brochures, Posters, Flyers
SEO (Search Engine Optimization): Content Creation and Local Directories
If you're ready to work with our team of expert professionals, then use the contact from on the left-side of this page, and Let's Get Started!
Portfolio Samples Containing Small Business Marketing: